Henry & Charlotte Peberdy
Memories of a Grandfather and Grandmother - by Cyril Peberdy
I think I can understand how we older folk live in the past - "everything (nearly) was better" and we use our memories to sustain our being!
I was born in 1928 in Cromwell Street, Nottingham and at the age of 3 the family moved to Firbeck Avenue, Skegness, including my mothers parents (Grandma and Grandad Rowland) in the move. They set up a partnership to run a 13 bedroom Boarding House (Guest House) named Wat-ona. At the ages of 8-10 I would travel, from Skegness to my Uncle and Aunts (mother's brother and his wife) in Nuttall Gardens, Nottingham for my summer holidays and visits to 'Grandma and Grandad-Beeston' as we called them.
The Second World War killed off the business since initially we were required to accept billeted Naval Personnel whilst they converted the Skegness Butlin's Camp to an on land base, "Royal Arthur" and then being at that time, thought to be in a vulnerable coastal location, the prospects for the business were very bleak.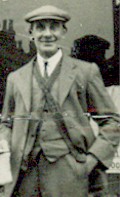 In September 1940 we all moved to Watnall Road Westville, Hucknall and it was from here that I got to know Charlotte and Henry better, visiting them on Saturdays from 1941 onwards. (The photograph left shows my grandfather in his later years when I knew him)
Henry would take me into Nottingham to visit the Sneinton Market (the source of a lot of his material - junk we would call it). In the afternoon we would go to the Empire Theatre matinee (music hall) - seats in the 'Gods'! - followed by a cup of tea and buns in the Empire Cafe, a basement cafe, opposite the offices of the 'Evening News'. As I recall these were the times he would relate his life stories many of which have gone. I should have kept a diary of all events.
Grandad's main interests were in the early cinema, musical instruments (violin, organ, banjo, piano), river fishing and restoring mechanical goods such as cinematographs (35, 16 and 9.5mm), magic lanterns, sewing machines etc.
Regarding his early interest in cinema (about 1908), Henry followed the traveling cinema with interest and this persuaded him to set up a more permanent way of showing films of the day since he had also observed the popularity of this form of entertainment. He set up his first outdoor cinema in the back garden/yard of where he lived and worked as a greengrocer, at 115 Queens Road, for showing films with weather permitting after dark with a silver screen fixed to the back wall. Audience access to the location was via a communal pathway (normally the toilet access). I think he charged halfpenny or penny admission per person. The films were mainly American Westerns and cartoons. He identified himself as being the first picture man in Beeston (permanent).
This enterprise was obviously successful, albeit a crude set up, but sufficient to encourage Henry to establish the Kozy Cinema in a disused warehouse, part of the old silk mill, behind what became Victor Oade's gent's outfitters, at the top of Station Road Beeston. We kept a copy of his general framed billboard for many years but it unfortunately got damaged over the years and thence thrown away. As I recall it was headed in large lettering - KOZY CINEMA and then secondary text - Westerns, cartoons, drama etc. - times of showing - admission one penny. When people saw Henry about in Beeston Town, they would ask him - "what's on Pep".
Since the films were all silent a musical accompaniment was necessary, generally a piano or violin, to add drama to what was on screen. As well as the piano and violin, Henry could play the organ and banjo. I never saw him with any wind instrument. The instrumentalist would have to be adept at following the actions on the screen whilst Henry would hand turn the projector handle. The projector used an arc light high intensity light source which required continuous monitoring and adjustment according to the density of the picture. Some films were tinted. The projection area was surrounded by wet hanging blankets for crude first line firefighting since the 35mm acetate film was very prone to catching fire. Film would break and this was a dangerous time when a quick repair using a special film clamp and 'pear drops' was used. Although a so-called safety film was developed later I don't know whether it solved the problem. Feature films were often on two l000ft.reels (maximum) and required a change of reel in the programme. Reel changing and breakages in film often caused audience reaction, mainly good-natured, whistles etc. Grandad had such advanced ideas but I cannot recall him talking about a second projector, I could well imagine him having some back up. Of course all films had to be re-wound by using a crude hand turned two-spindle machine.
Henry would be the projector operator usually but I believe that if he had a trustworthy assistant he would take over the instrumentalist role (he also played the violin in the Beeston Orchestra). Grandma Charlotte organised and controlled the 'Front of House' as we know it today and as I remember being told.
As far as grandad was concerned, he thought that the cinema would be a seven day wonder. He was approached by someone to join a partnership (I cannot remember the man's name but ultimately he built a cinema on the High Road) and being of independent mind he did not wish to be exploited or be in league with anyone else. He never expressed any regret at not joining with any one in business; he carried on in his own way and not owing anybody anything.
Grandad kept a good many of the old films as I recall being shown them in the back room at 115. As I remember he used a 6 volt dry battery light source and hand turned the projector. A good Saturday at the pictures. He also used to show 9.5 and 16mm. Films using 2 6 volt dry batteries driving motorised projectors - plenty of 60ft. Mickey Mouse and Donald Duck etc .cartoons. I well remember the 9.5mm. showing of "The Flying Scotsman" - the real LNER streamlined engine - "drama in two reels" with a very young Ray Milland (fireman) and Moore Marriot (driver)! The baddie uncoupling the train whilst in motion!!!!! I think Ray Milland saved the day!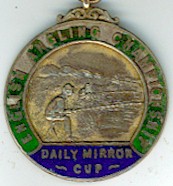 My grandfather enjoyed river fishing. One year he won the Daily Mirror Cup and gained a medal (Shown left - position your mouse on the image to see the inscription); we did have a photograph of him on the bank of the River Trent but this got lost in time.
I can reflect on many happy hours visiting Grandma and Grandad. I/we (my parents) stayed the night sometimes. We slept in the front bedroom, going to bed with candles. As I recall there were only two gaslights in the house, one in the shop and the other in the living room; there was a gas ring in the scullery/kitchen - very basic. A lot of space in the living room was taken up with the Canadian Organ (floor to ceiling), large sideboard (almost floor to ceiling), table and chest of drawers - on which he mounted the cinematograph when in use - and 4 or perhaps 6 Windsor chairs. No comfortable armchairs! The hot water and main cooking facility was by a coal burning range in the living room. The coal house and toilet were down the garden(?) and off the communal pathway. In the shop he had a workbench where he did his repair and restoration work.
115, Queens Road was opposite the Queens Hotel, a Shipstone Public House from which Grandad would get his jug of ale. Alongside was the road leading to the Beeston Boiler Company. Next door was a hairdresser with a Co-op on the corner beyond. On the other side were a few houses set back and then a Shoe Repairer (?) and on the corner of the next road was 'the corner shop'.
On a Saturday morning he would get the bus to Nottingham to visit the Sneinton Market. I would go with him occasionally, to pick up some bric-a-brac (junk) - anything he could see in need of restoration: cinematographs, magic lanterns, sewing machines etc. - anything he could add value to. On one or two occasions he bought an old pram to carry his purchases and walk home to Beeston. I well remember an escapologist getting out of locked chains and swords which were across his body and other gruesome entertainment.
One further story about him I can relate. An item I treasured was a small canon, wrought iron, mounted in wheels and about 15" long. It fired small canon balls about ½" diameter using gunpowder and wick to fire. At the time of the Boer War he fired it, not anchored down, and the canon turned on him and he was shot in the back of his neck/head with splatter. He carried the pot marks throughout his life!
© C A Peberdy - 2011
Close this window to continue