It must have been desperation rather than a need for adventure that drove Thomas to try his luck in Australia, leaving his wife and five young children behind. He had looked first for other ways out of his financial difficulties at home, visiting family in England seeking help in meeting his debts. Finally, in about 1880, with no help forthcoming, he had taken a job on a ship caring for prize bulls bound for Australia - effectively working his passage.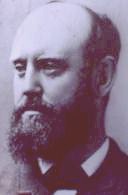 His hopes and intentions in his new life were to establish himself sufficiently so that he could bring out his wife and family - but still there was not to be the quick turnaround of his fortunes he needed. For a time he moved around New South Wales and Tasmania, finding some work as a drover on the sheep farms, but it was two or three years before he could begin to offer the stability which he might have expected Elizabeth to come out to. But, by December 1883, it did appear that he was reasonably well established, responsible for about 40-50,000 sheep on the Henley Station on the River Darling at Memindee in New South Wales. A surviving letter written home to his wife at that time, describes his everyday life there - riding out over an area of about 2700 square miles, often covering 200 miles a week in the saddle, and a reasonably comfortable home with a live-in couple to share the housekeeping and the chores.
In all this time, he had not lost touch with his family back in Sheffield - where his wife had returned to after he had left. He clung to the hope that his wife and children would one day join him and he had sent money home in the meantime. The surviving letter from the end of 1883, although enclosing £60, also shows the tensions that must have existed - he carefully describes his home help and their daughters as "married" and implores his wife in the northern idiom, ".. so old woman don't be jealous" and continues to ask her to join him, now in a way that indicates that he was beginning to doubt that she ever would - and the frustration was showing, "My dear just write and tell me about my children and yourself and tell me weather there is any chance of you comeing out or not; I have asked you so often that I shall not ask you you again. I have suffered enough for all these years, I dear say you have too. Only you have yours friends about you. Just think a little if you have done write in refusing all these years." Now back under the influence and relative security of her family, Elizabeth was not, apparently, ready to make that leap of faith.
As it turned out, within a year, Thomas was once more out of work - apparently the victim of a number of dry seasons - so he turned his attention to the attraction of the age in Australia - prospecting. Silver had been found in several areas of New South Wales about ten years earlier and there was no shortage of those who were prepared to try their luck - but real success came to very few. Still looking for a change in fortune, Thomas decided to move to Silverton, a mining town which had been established in 1883 following a successful silver find in the Umberumberka region just south of the new township and which was fast attracting miners and prospectors. Things were moving fast as Thomas arrived, the area was busy with bullock wagons hauling wares from South Australia, a newspaper had been established - The Silver Age - and, although the place was nothing more than a hotch-potch of iron iron huts and canvas structures, there were already plans to incorporate the town and to build a Town Hall.
Describing life in that area at the height of the rush to find fortune, the Town and Country Journal wrote, 'The scum of the country began to be attracted to the new and prosperous field like blowflies to a carcass. horse-stealers, cattle duffers, mining sharks and rogues of all descriptions rolled up. Robberies, and the jumping of claims and allotments, were things of daily occurrence.". Recalling the time long afterwards, the then Government Surveyor, E.H Dawson, spoke of his liking for Thomas, descibing him as a quiet, reserved man whom everyone liked but who did not mix a lot with most of the others around at the time, was temperate in his habits and kept himself largely to himself. Silverton was clearly a long way from the relativly gentile life that Thomas had known in England. It would seem that he was once again driven by desperation rather than choice.
By the time the promised Town Hall was built in Silverton in 1885, most of the population - estimated at 1,745 in December 1884 - had moved to Broken Hill, about 30 miles away, where, after a slow start, things were developing quickly. In 1883 an early pioneer, Charles Rasp had headed a syndicate he had assembled to exploit his promising finds in the area and seven claims - blocks 10-16 inclusive - were registered. This was a time when fortunes were made and lost very quickly - ready cash was continually needed to pay wages or buy supplies and men were forced to sell at knock-down prices, or shares changed hands on the turn of a card in a bar-room game. Membership of the syndicate - "the Broken Hill" - was to change in this way over the next year until there were fourteen equal partners remaining. This syndicate, like most, had its winners and losers, with one of the one-fourteenth shares changed hands for £90 which, as it turned out, would have been worth £1,250,000 six years later.
Meanwhile blocks 5,6 and 7, just to the south-west of the North Broken Hill claim, were pegged in August 1884 by William, George amd Charles Maiden who named it the Great Bonanza - also known as South Broken Hill. A survey later that month followed by a favorable report by a Government Geological Surveyor and others, focussed even more attention to the exciting potential of that area. Looking for every opportunity, Thomas noticed that a triangular space remained between the North and South claims and stacked out his claim accordingly as block 9. Thomas had known the Maidens' for some years; they had kept a hotel at Menindee where he had stayed after he had left Henley station and it was from there he had set off on regular prospecting expeditions. Late in life, William Maiden even claimed to have drawn Thomas' attention to the space and suggested that he peg it. Dawson, the Government Surveyor who knew Thomas well, later said that when Thomas had told him that he had noticed the gap and that he was considering pegging a claim he told him that he was quite entitled to do so.
However, it came about, Thomas' claim was registered on 3rd September 1884; he named the claim "The Elizabeth" after his wife. When the others realised what he had done there was much anger, swearing and disagreement - but Thomas stuck to his claim. Its lodes, clearly continuations from the adjacent claims, showed great potential and had assayed "very fairly of silver". Although there were still many obstacles to overcome, Thomas' may, at that point, have seen the chance of a more assured future - if fate had not, once more, played its part.
As a prospector, Thomas would have faced many hazards before he could turn a promising find into a fortune. The objective of any prospector was, of course, to provide proof that a claim was worth working and this took time, money - and luck. During whatever time this took, the claim laws required the holder to demonstrate commitment by putting in work and attending the site daily; Thomas therefore needed to ride into Broken Hill daily on his black mare to satisfy that law. There was then the problem of help to develop the claim - the heavy work was not something that could be completed alone. Again, the choice of solution was hazardous - either, pay hired men and be forced to come up with the cash to pay them, or find partners who could be relied on to work, pay their dues and not to cheat. Speculative spending extended over many months with nothing coming in with cash required regularly for goods supplied by the storekeepers and for board and lodging at the hotels. When money was short, partnerships were formed by the need to sell a share in the claim. Areas like Broken Hill at the height of the rush attracted financiers, share dealers and simple opportunists and the available partners were not always those who one would normally choose and urgent requirements invariable left a desperate man with a poor negotiating position. Needing to settle his accumulated bill at the local store, Thomas had sold a one-third share of one his claims at the very beginning to W C Young.
Silverton - 19th Aug 1884

Received from W C Young the sum of eighteen pounds being part payment of twenty five pounds for one third share of claim (forty acres) situated north and joining George White's claim near the Broken Hill

T H Nutt
Thomas, with the help of others, began to prospect the claim and the 'Silver Age' reported their progress; by the April of 1885 they had excavated to ten feet and three months later were down to thirty feet with a cut into the load of some fourteen feet wide. The material was by then assaying from 16 to 32 oz of silver to the ton and from 60-60% of lead - not sensationally rich, but certainly encouraging. By the end of July, samples with up to 78 oz of silver to the ton were being reported and soon after that, in August, with the shaft at 55 feet and 18 feet of the load cut through, still more encouraging results were appearing. By this time, Thomas' share in the claims had undoubtedly diminished further and the point had been reached where major investment was needed to prove the lode further. In September the partners sold their interest to the Broken Hill South management, represented by Samuel Owen and a Mr Russell, for a substantial amount, believed to be about £15,000 in cash and shares. Despite all the intervening hazards, Thomas had managed to retain a one-third interest in the claims as his share of the proceeds.
The new owners commissioned two surveys immediately from industry experts, designed to demonstrate the potential of the claims; both, perhaps inevitably, reported positively. On the strength of this, a prospectus was prepared for a public share flotation which, if succesful, would provide the substantial capital needed to fund a mining operation to exploit the site. This is the step that would potentially have delivered the substantial return that Thomas needed to return to England with his financial difficulties solved. However, even at this stage, things did not progress easily for him. Things dragged on throughout the early part of 1886 with little progress in opening the mine and it was May before the prospectus for "Nutts" Broken Hill Silver Mining Co Ltd was issued. Perhaps the other investors had hoped that the delay would discourage Thomas - in the event, circumstances were to change dramatically to their advantage in a way that was completely unexpected.
Click Here to Read more
The author acknowledges the invaluable contribution made by Sir Michael Carlisle, Martin Gregory Nutt, Elizabeth Ann Carlisle and other descendants of Elizabeth Nutt Harwood, who have co-operated enthusiastically and given access to surviving family papers and research in their possession.