The letter that arrived at the home of Thomas' family in Sheffield from Australia, dated 19th May 1886 but probably not received until two months later, must have come as a most devastating blow. They had hoped for success at last from Thomas' efforts in that far off land but now they learned that he was dead - and just as he had could have expected more than enough return to satisfy his creditors and return to family life in England.
Thomas had been in poor health for some time - kidney and stomach trouble, according to one who knew him well - and was worn out; he had often spoken of going home to England. But on the evening of Thursday, 14th May he had been taken acutely ill. It appears likely that on top of his long-term health problems, he had contracted typhoid - a constant threat in the mining towns where the water supply, in these early days, mainly derived from temporary bore holes - called "soakers" - was unreliable and suspect most of the time and the sanitary arrangements primitive in the extreme. If so, he was one amongst many - even two years later, the Silver Age described Broken Hill where "typhoid decimates the population; and where there is no provision for the sanitary comfort of the people". In that year, 40% of all deaths there were from typhoid fever.
When taken ill, Thomas was staying at the Nevada Hotel in Silverton. There would have been little or no chance of removal to hospital, despite the severity of his illness, as hospital accommodation in the town - as in Broken Hill - amounted to no more than 14 beds. As a result, most of the many typhoid sufferers could only remain in their tents and shanties. It was small comfort, but at least Thomas had the basic but relatively secure facilities of an hotel room.
He also had friends who could help at the time and who would try to protect his and his widow's interests. Immediately at hand was his colleague, W H Stansfield, an auctioneer, produce merchant, commission agent and sharebroker, who had written the letter to his widow in England. His letter described how he had stayed with him and nursed him through the first night, the next day and into Saturday. At that point, Thomas had seemed much better and the attending doctor had assured Stansfield that his friend was not in danger. Having business to attend to some 15 miles away, Stansfield left with the intention of returning on the following Tuesday. However, on the Monday, a message reached him urging his immediate return as Thomas was dying and asking for him. In his letter he describes vividly the tragic end.
"I jumped on a horse at once and galloped the whole way in never pulling rein until I arrived opposite Mr Nutt's bedroom door, but it was too late. He knew me and the poor fellow was glad to see me and made several attempts to speak to me of his affairs, but his brian was wandering and he never finished one connected sentence from then, about 3 o'clock, until the time he died. I stayed with him, and had two doctors, everything was done for him that was in the power of man to do, but all our efforts were fruitless, and he died at last as quietly as a child going to sleep."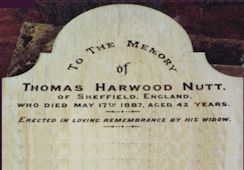 The death certificate recorded the basic facts - died at Midnight (8 minutes to that hour according to Stansfield) on 17th May 1886, at The Nevada Hotel, Silverton, age 42 years, of gastric fever and congestion of the lungs after an illness of five days. He was buried at the local cemetery where, eventually, a gravestone (left) was erected by the family. This memorial - with his year of death stated incorrectly - survives although is now broken. It can be seen, in the left foreground, in the photograph below, in what is now a remote and desolate spot.
The hard-won advantage that Thomas had worked for in the last few years was clearly in jeopardy now that he was not here to look after his own interests. Although Thomas, despite the odds, had been able to hang on to a one-third interest in the Elizabeth mine and the prospectus for Nutts Broken Hill Silver Mining Co Ltd had been issued, the company had not, as yet, been floated. Staying ahead in this dog-eat-dog environment was never easy but now that he was dead it would be very much more difficult for his family to realise the potential of what he had gained. Nobody knew this better than Stansfield and he made this very clear in his letter. He confirmed that Thomas had left a will leaving everything to his widow and in which he had appointed another friend, Mr Fitzgerald Snowball, an accountant, probably then of Adelaide but later of Melbourne, his sole executor. Making the point that Snowball was "not here", Stansfield believed - or at least stated - that it would have been better if Thomas had changed his will, as he had been urged to do - but refused - to appoint a second executor and he now urged the family to appoint someone else who, in his eyes, would better look after their interests. The writer claimed that he and a Mr Tom B Dickinson of Sydney were "his most intimate friends" and promised that they would would both watch matters carefully in the family's interest. Given what he appeared to have already done, this would appear, on the surface. to be a genuine statement by a concerned friend but, given what was involved, it is difficult to be certain. In the event, years later, Snowball was to claim that it was he who was the chief mourner at the funeral and he, at least, does appear to have tried his best to carry out his duties to his friend.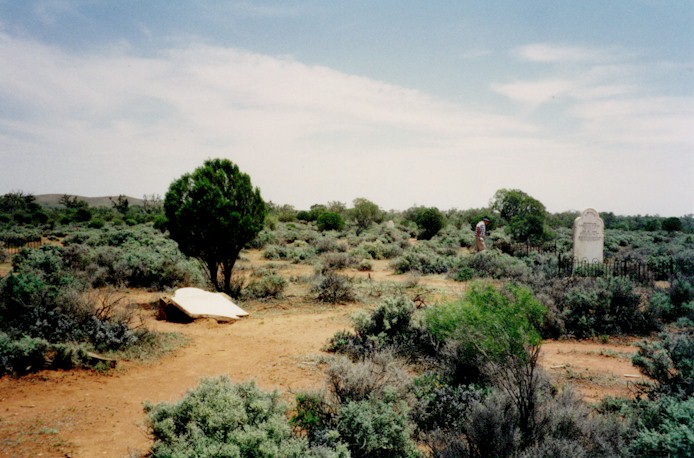 Stansfield had detailed a few personal belongings that he had gathered up and left in safe keeping, including Thomas' watch and chain and his gold studs as well as a life insurance policy in the Australian Widows Fund Society for £1000 - a reasonably substantial amount for that time, but everyone knew there was much more at stake.
As we have seen, Elizabeth and the children were already back in Sheffield and under the influence of the family - particularly her brother Robert, by now well established as a solicitor. It appears to have been he who advised the widow not to accept Snowball's repeated requests to grant him Power of Attorney so that he could act in the family's interest in respect of the share in the mine. Years later, in 1922, he described to Thomas' son William Harwood Nutt, the pressures and difficulties he had faced in carrying out his duties as sole executor and trustee of the will. The other shareholders, no doubt seeing their opportunity, had proposed to wind up the Company in liquidation. This had been resisted and arrested by a Supreme Court injunction but, without authority to act, there were limits to what he could achieve for his old friend and his family. As he exclaimed immediately on meeting William, "Oh why did not your mother send me the power of attorney that I asked for. Why? Why?" But, back in Sheffield, the family had not been convinced. Elizabeth had even suggested that she should travel to Australia but this too had failed when Robert refused to lend her the £100 or so that would have been needed to make the voyage. In the end, Snowball's task became impossible to continue and, without the authority in the will to use his judgement to delay the sale, and after consulting his brothers and sisters he was forced to sell and wind up the estate. By September 1886, the reorganisation of the mining company was complete under the name of Central Broken Hill Mining Company and work was soon resumed under the new ownership and management. Eventually the company was to be absorbed into the famous Broken Hill Proprietary Company which continued mining operations in the area up to 1939. In its hey-day, in the ten years up to 1893, minerals valued at over £16,000,000 were produced in the area of Broken Hill.
So, as things turned out for Elizabeth and her family, it seems that the estate realised some £3,000, an amount that apparently included the proceeds from the life insurance policy. It seems therefore that the share in the mining enterprise raised something between £1,500 and £2,000. According to Snowball, if he had had the power to resist the sale, the share would have been worth £80,000 even three months later. It is likely that news of the fortunes that were being made in this far-off land did filter back to the family in England and doubts inevitably lingered in their minds about the disposal if his mining interests and even the circumstances of Thomas' death. Years later, in his journey to try to discover the facts, William concluded that there was nothing but extreme misfortune in the timing and circumstances of the death and that Snowball had indeed been a genuine friend and had acted as well as he could without authority to do otherwise; nevertheless, he put the potential loss of futune at an even higher figure - at their peak, in February 1888, the shares reached £15 which would have valued Thomas' share at £262,000. But all this would have required good timing, good luck and confidence in strangers which were all difficult to judge from the opposite side of the world. As it was, there was more than enough to pay off Thomas' creditors and to face the future.
Then too, there was their children. As it turns out, they were to be their parents' greatest legacy.
Click Here to Read About the Next Generation
The author acknowledges the invaluable contribution made by Sir Michael Carlisle, Martin Gregory Nutt, Elizabeth Ann Carlisle and other descendants of Elizabeth Nutt Harwood, who have co-operated enthusiastically and given access to surviving family papers and research in their possession.